Carlos Magno, [35m]* ®
Nascimento: 2 Abr 742
Casamento (1): Hildegarda de VINSCHGAU, [35m]* ® em 771
Óbito: 28 Jan 814 com 71 anos de idade


Eventos de relevo na sua vida:
• Anotações gerais.
DATEBRIEF DESCRIPTION

Key Events: Charlemagne
742Born April 2, probably in Aachen (Aix-la-Chapelle), the son of Pepin the Short, King of the Franks.
755 onwardsCharlemagne accompanies his father on numerous military campaigns, including the conquest of Aquitaine and the invasion of Italy in the support of the Pope against the Lombards.
768On the death of his father, the kingdom is split between Charlemagne, who becomes King of Nestrie, Austrasie, and western Aquitaine, and his brother Carloman, who rules Bourgogne, Provence and eastern Aquitaine.
770Marries the daughter of Desiderius, King of the Lombards.
771Unexpectedly Carloman dies. Charlemagne becomes king of his domains.
772The Pope appeals to Charlemagne for help against the Lombards.
774Charlemagne defeats Desiderius and becomes King of the Lombards. The Pope declares Charlemagne "the Protector of Rome".
775-777Charlemagne leads a campaign to conquer and Christianize the Saxons. Mass baptisms and declarations of allegiance follow, culminating in the Diet of Paderborn (777).
778Invades Spain to fight the Arabs, but has to retreat. Establishes the Spanish March, a buffer state on the Pyrenees.
796Conquers the empire of the Avars (roughly modern Hungary and Austria). Makes Aachen the capital of his empire and seat of his court.
800Crowned Emperor of the Romans by Pope Leo III in Rome.
804-805Saxon revolts crushed
812The Byzantine Emperor, Michael I, recognizes Charlemagne as Emperor of the West. Charlemagne designates his son, Louis, as his successor by placing the crown on his head.
814Dies, January 28, and is interred in the cathedral at Aachen.

• Título: Imperador do Ocidente,,.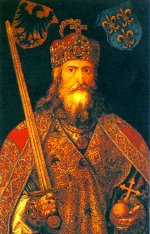 • Foto 3ª idade:

Carlos casou com Hildegarda de VINSCHGAU, [35m]* ®, filha de Geraldo de ANGLACHGAU, [36m]* e Ema da ALEMANIA, [36m]*, em 771. (Hildegarda de VINSCHGAU, [35m]* ® nasceu em 758 em Baden, , Baden-Württemberg, Germany e faleceu a 30 Abr 783 em Thionville, Thionville, , Lorraine, France 1.)