Clóvis I FRANKEN, [45m]* ®
Nascimento: 25 Dez 465, Rheims, , Champagne-Ardenne, France
Casamento (1): Clotilde de BORGONHA, [45m]* ® em 493
Óbito: 27 Nov 511, Biel, , , Switzerland com 45 anos de idade


Eventos de relevo na sua vida:
• Anotações gerais. 1 Clovis I (German, Chlodwig) (c. 466-511), King of the Franks (481-511) and first important ruler of the Merovingian dynasty. He succeeded his father, Childeric I, as King of the Salian Franks. His career focused largely on forging the Salian Franks on the northern Rhine and the Ripuarian Franks on the lower Rhine into a single dominion. He began with a victory in 486 over Syagrius, the last Roman governor in northern Gaul. By 493, when he married the Burgundian princess Clotilda (later canonized as St Clotilda), Clovis had defeated many petty princes whose territories surrounded his capital at Soissons. He next came into conflict in 496 with the confederation of Germanic tribes known as the Alamanni, who inhabited land east of his domains. According to legend, it was only by invoking the God of his Christian wife, Clotilda, that he defeated his enemy. Clotilda was almost certainly instrumental in Clovis's conversion to Christianity, and he was baptized in 496. He became the champion of orthodox Christians in every part of Gaul and was supported effectively by the Church in all his campaigns. He continued to fight the Alamanni, who were completely conquered by 506; the next year the Visigoths were decisively defeated when their king, Alaric II, was killed by Clovis in battle near Poitiers. Clovis made Paris the capital of the Frankish kingdom, which at that time included most of present-day France and south-west Germany. According to Salian custom, he divided his kingdom among his four sons.
• Título: Rei dos Francos,,.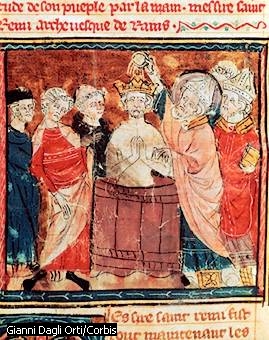 • Foi baptizado em 496. 2 Baptism of Clovis I
Around 496 Clovis I had himself baptized by Bishop Remigus of Reims. By converting to Christianity he not only secured the support of the Church but also that of his Roman subjects, a large number of whom were Christians. Clovis laid the foundations for the emergence of France as an important power in the Christian West. This miniature is from the 14th-century Grandes Chroniques de France (Bibliothèque Municipale, Castres, France). Gianni Dagli Orti/Corbis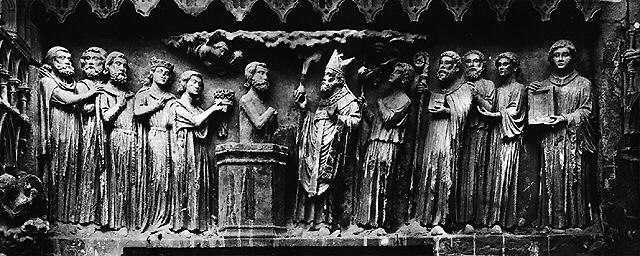 • Foi baptizado Conversão de Clóvis em 496. 3 En 493, Clovis épouse une princesse bourguignonne, Clotilde. Elle tente, pendant trois ans de convertir son époux. Celui-ci refuse jusqu'à la bataille de Tolbiac, où il promet de se convertir si le "Dieu de Clotilde" lui donne la victoire. Quelques entretiens avec Rémy, l'évêque de Reims, achèvent de le convaincre.
En 496, Clovis et trois mille de ses soldats se font baptiser. Rémy prononce alors le fameux : "Courbe doucement la tête, fier Sicambre ; adore ce que tu as brûlé, brûle ce que tu as adoré".



Clóvis casou com Clotilde de BORGONHA, [45m]* ® em 493. (Clotilde de BORGONHA, [45m]* ® nasceu cerca de 477 em Bourgogne, , Champagne-Ardenne, France, faleceu a 3 Jun 546 em Tours, , Auvergne, France e foi sepultada em Paris, , , France.)