Matilde Aleluia Fontes BARBOSA, ®
Nascimento: 11 Nov 1942, Salto, Fogo, Cabo Verde
Casamento (1): Orlando Oliveira Baptista BARBOSA VICENTE, ® a 5 Jan 1967 em São Filipe, Fogo, Cabo Verde
Óbito: 14 Abr 2011, Lincoln, Providence, Rhode Island, United States com 68 anos de idade
Sepult.: 18 Abr 2011, Cumberland, Cumberland, New Jersey, United States


Eventos de relevo na sua vida:
• Anúncio necrológico / Agradecimento de condolencias. Matilde B. Vicente, aged 68, passed away peacefully with her family by her side on April 14, 2011. Born in Fogo, Cabo Verde, Matilde was the daughter of the late Jose Joaquim Barbosa (Zeca) and Maria Merces Fontes Barbosa (Ia).
She is survived by her three children, Rolando and wife Dona, Nataniel and wife Mena and Ligia and husband Alberto; her husband Orlando; three grandchildren, Patrick, Matthew and Alex; brothers and sisters; several nieces and nephews; uncles and aunts and several cousins.
She was the grandmother of the late Yanire.
Matilde will be remembered as a loving, devoted and special mother, a courageous and giving person to all her family and friends.
Her funeral will be held on Monday at 8:30 am from the Keefe Funeral Home, Five Higginson Ave, Lincoln, Rhode Island with a Mass of Christian Burial at 10 am in Immaculate Heart of Mary Church, 291 High St, Pawtucket. Burial will be in Resurrection Cemetery, West Wrentham Rd, Cumberland. Calling hours will be held Sunday from 12 to 4 pm at the Keefe Funeral Home. Relatives and friends are invited.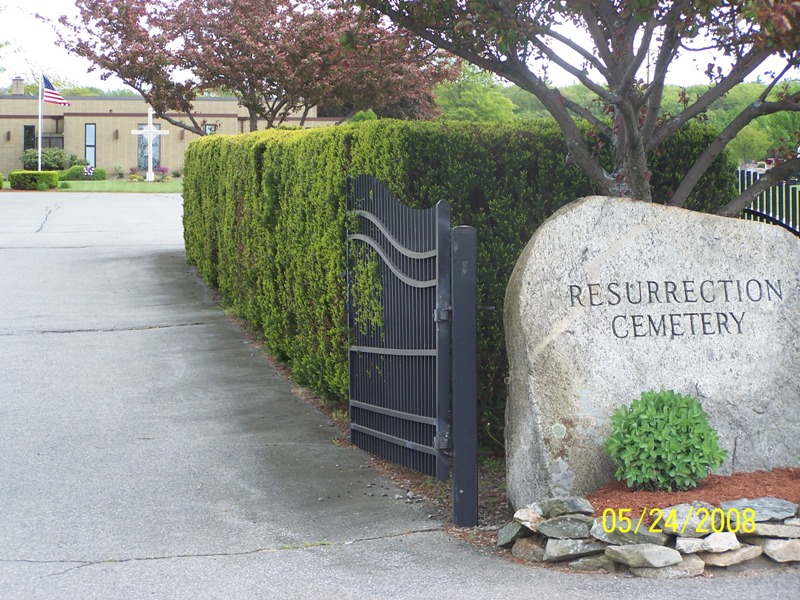 • Cemitério: Resurrection Cemetery: Cumberland, Cumberland, New Jersey, United States. Cemetery notes and/or description:
Established in 1976, Resurrection Cemetery is the newest addition to the Providence Diocesan Office of Catholic Cemeteries. Located in the Lincoln-Cumberland area, this cemetery rests on 200 total acres of burial grounds. With only fourteen of those two hundred acres developed, there is still a large amount of space for the burial of deceased loved ones and future growth.

Resurrection Cemetery features two chapels for committal services and Masses when remembering the faithful departed.

There is a large usage of this cemetery by veterans of war when burying their loved ones. The Diocese will give a 2 space plot to veterans who served during certain times of conflict, check with the cemetery office for time periods. Only flat memorials are allowed on the space.

The rural location and panoramic view of the Lincoln-Cumberland area provides a calm and peaceful setting for the cemetery.

Matilde casou com Orlando Oliveira Baptista BARBOSA VICENTE, ®, filho de Alberto BARBOSA VICENTE, ® e Teresa Spínola BAPTISTA, a 5 Jan 1967 em São Filipe, Fogo, Cabo Verde. (Orlando Oliveira Baptista BARBOSA VICENTE, ® nasceu a 7 Abr 1940 em Curral Grande, Fogo, Cabo Verde 1.)